You are here
World Van Horn Cup 2023
2023 World Van Horn Cup Info Sheet
Overview
Following the three-day championship, the top 20 12-year-old boys and top 12 12-year-old girls are selected to play in a one-day best ball tournament contested on Pinehurst No. 4.
---
Selection Procedure
Participants will be selected based on their score after 36 holes (Round 2). Once 36-hole scores are compiled, the Van Horn Cup selections and an alternate list will be published. Selected players will receive a commemorative golf bag, shirt, hat, and caddie bib patch for the competition.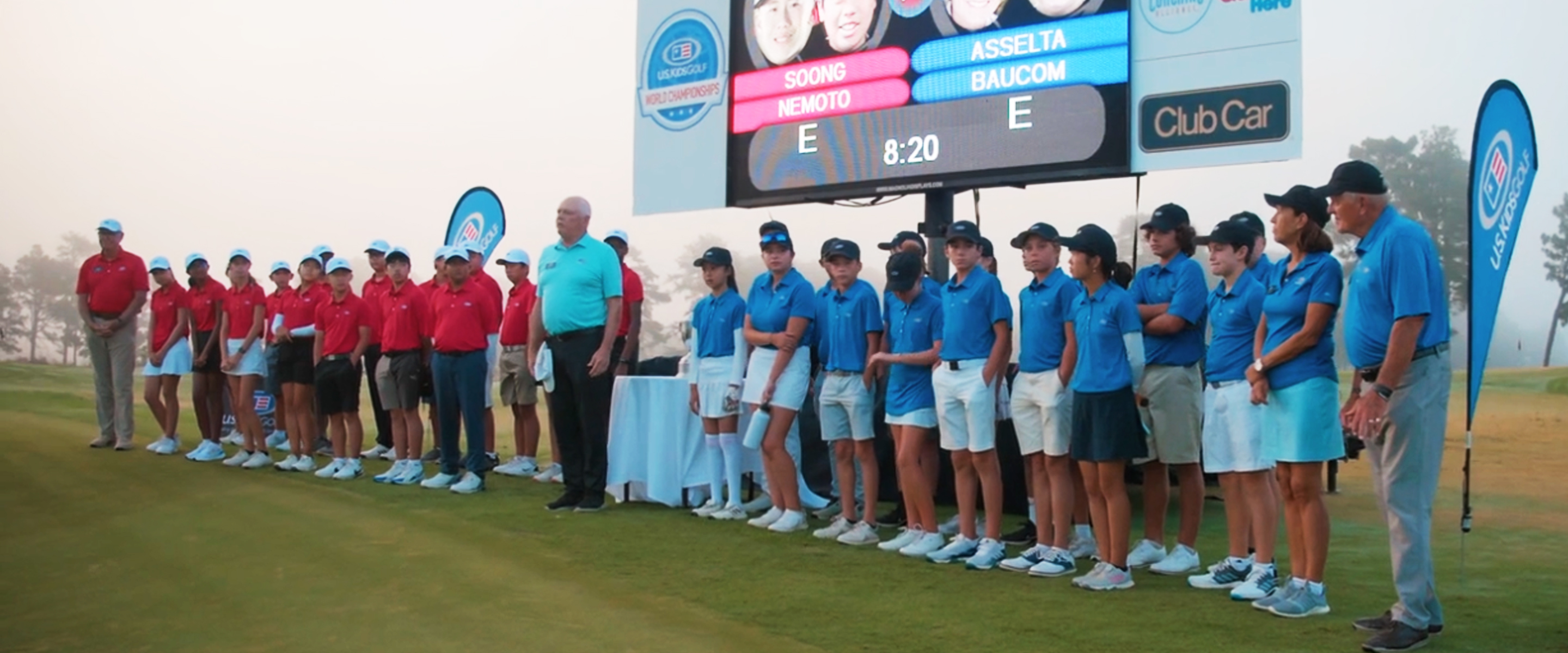 Format: Team Best Ball Stroke Play
In each match, the team with the lowest score after 18 holes will win one point for his/her team.
Awards:
Awards will be presented to the winners of each match. The Van Horn Cup trophy will be presented to the winning team after the event.
The Morrison Medal:
Each year, the boys and girls pairings with the lowest rounds in the match were awarded a Morrison Medal, named in honor of the late Sir Garth Morrison, who was Lord Lieutenant for East Lothian, and his wife Lady Gill Morrison.
---
2023 Recap
This year, the Blue Team defeated the Red Team by a final score of 5.5-2.5.
Phannaphisar Kiatphonsiri (Thailand) and Kylie Chung (Georgia) of the Blue Team took home the Morrison Medal for the Girls division with a score of 65(-7) on Pinehurst No. 4.
Davis Petty (South Carolina) and Tyler Newsome (Georgia) of the Blue Team secured Morrison Medal honors on the Boys side with a score of 64(-8).
---
Past Winners:
2023, Blue Team 5.5-2.5
2022, Blue Team 4.5-3.5
2021, Red Team 5-3
2020, Blue Team 5-3
2019, United States 5.5 – 2.5
2018, United States 4.5 – 3.5
2017, United States 5 – 3
2016, United States 5.5 – 2.5
2015, United States 5.5 – 2.5
2014, United States 5 – 3
2013, United States 7 – 2
2012, United States 5.5 – 2.5
2011, United States 5.5 – 3.5
2010, United States 6.5 – 1.5
2009, United States 5 – 3
2008, United States 11 – 5
2007, United States 11.5 – 4.5
2006, United States
---
Morrison Medal Winners:
2023
Phannaphisar Kiatphonsiri (Thailand) & Kylie Chung (Georgia)
Davis Petty (South Carolina) & Tyler Newsome (Georgia)
2022
Riley Grimm (North Carolina) & Aphrodite Deng (New Jersey)
Jace Benson (Utah) & Ambrose Kinnare (Florida)
Keane Taino (California) & Ajalawich Anantasethakul (Thailand)
Ethan Evans (Virginia) & Christian Koehn (Florida)
2021
Lucas Gimenez (Florida) & Miles Russell (Florida)
Dresden Bounds (Texas) & Asia Young (Oregon)
Angela Zhang (Washington) & Athena Singh (Kentucky)
---
2020
Henry Guan (Texas) & Tyler Mawhinney (Florida)
Hadley Ashton (Colorado) & Chloe Chang (Florida)
---
2019
Samuel Duran (Panama) & Mykhailo Golod (Ukraine)
Madison Moman (Florida) & Haley Davis (Florida)
---
2018
Justin Bjornson (Canada) & Alex Long (Canada)
Trey Marrion (Virginia) & Bryant Hernandez (California)
Bonnie Zhai (Canada) & Sofia Temelo (Mexico)
---
2017
Rorisang Nkosi (South Africa) & Jeremy Chen (Taiwan)
Abbey Schutte (Arizona) & Sara Im (Georgia)
---
2016
Luke Clanton (Florida) & Ben Brogdon (Arkansas)
Karoline Tuttle (Florida) & Kynadie Adams (Tennessee)
---
2015
Zachary Reuland (South Carolina) & Kevin Jiang (California)
Juan Camila Vesga Solano (Colombia) & Keaton Morrison (UK)
Alexander Yang (California) & Jackson Rivera (California)
Manuela Gomez (Colombia) & Yae Eun Kim (Dominican Republic)
Elle Nachmann (Florida) & Mimi Chen (Florida)
---
2014
Joseph Pagdin (Florida) & Matthew Watkins (Texas)
Cordelia Lopez (Mexico) & Caitlyn Macnab (South Africa)
© US Kids Golf All rights reserved