You are here
Bayou, LA Local Parent/Child 2023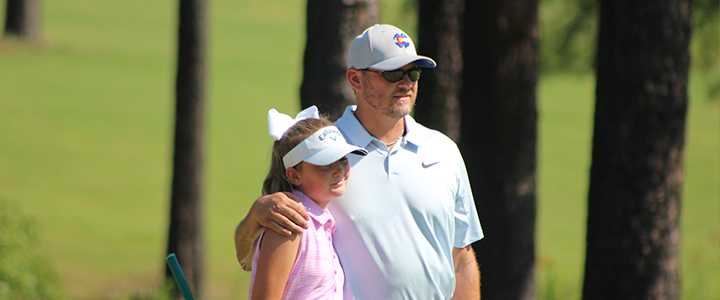 The Bayou, LA Local Parent/Child is a chance for parents to team up with their young player for a fun day of golf on Thursday, June 15th, 2023.
Registration: Registration is on a first-come, first-serve basis. Adult partners must be at least 18 years old and cannot compete with more than one junior golfer.
Cost: $95 per team. Includes: 9-Hole greens fees, range balls and food after the event.
Start Time: Tee times will be posted 2 days prior to the event.
Format: Scramble.
Awards: Trophies will be presented to the 1st and 2nd place teams in each age group. One award is given per winning team.
Tiebreaker: U.S. Kids Golf Scorecard Playoff will be used to break ties for all awards. Winner will be determined on the basis of the team score on the last nine holes, last six holes, last three holes and finally the last hole. If the teams are still tied, continue backward from the last hole until a winner is determined. (The "last nine holes, last six holes, etc." is considered to be 10-18, 13-18, etc.)
Director: Logan Moore, Bayou, LA LT Director - loganmoore1882@gmail.com
Course Assignments:
Please note all players will play 9 holes.
Age Group
Course
Boys & Girls 15-18
Frasch Park Golf Course
Boys & Girls 13-14
Frasch Park Golf Course
Boys & Girls 11-12
Frasch Park Golf Course
Boys & Girls 9-10
Frasch Park Golf Course
Boys & Girls 8 & Under
Frasch Park Golf Course
© US Kids Golf All rights reserved