You are here
AJGA PBE Status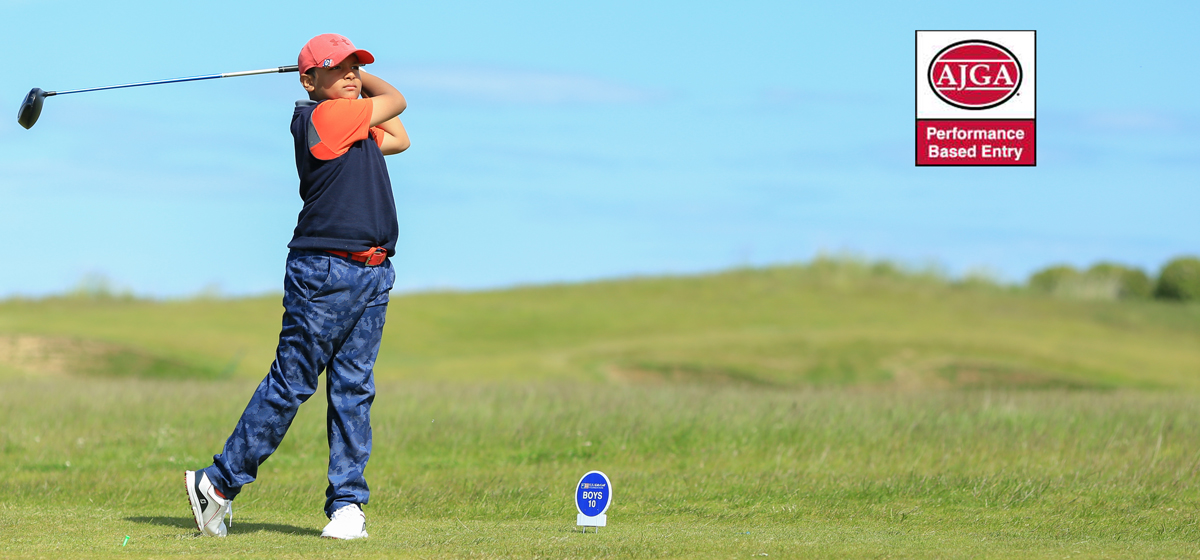 With top finishes at U.S. Kids Golf major tournaments, players can earn Performance Based Entry status with the American Junior Golf Association.
U.S. Kids Golf tournament players, ages 12 to 18, who attain at least one of the top three Priority Status levels (Levels 11, 12, or Lifetime), will receive AJGA Performance Based Entry (PBE) Stars for the following AJGA season. These Stars will be awarded at the beginning of each year and are valid for that calendar year only.
To receive AJGA Performance Stars for Priority Status earned in 2022, a player must reach age 12 by June 1st, 2023, AND must be 18 years of age or younger on January 1st, 2023.
Players whose U.S. Kids Priority Status features a 2022 start date (2022 multi-day events, Winter 2021 Local Tours, and Spring/Summer/Fall 2022 Local Tours) will receive four PBE Stars to use in 2023. Priority Status-based PBE Stars are in addition to the PBE Stars players currently earn for top finishes in U.S. Kids Golf Championship events.
Priority Status (Ages 12-18)
| Age Group | Stars |
| --- | --- |
| Priority Status Level Lifetime | 4 performance stars |
| Priority Status Level 12 | 4 performance stars |
| Priority Status Level 11 | 4 performance stars |
2023 World Championship
| Age Group | Stars |
| --- | --- |
| Boys 12 (Champion) | 4 performance stars |
| Boys 12 (Top 20%) | 2 performance stars |
| Boys 12 (Top 50%) | 1 performance star |
| Boys 11 (Champion) | 4 performance stars |
| Boys 11 (Top 20%) | 2 performance stars |
| Boys 11 (Top 50%) | 1 performance star |
| Girls 12 (Champion) | 4 performance stars |
| Girls 12 (Top 20%) | 2 performance stars |
| Girls 12 (Top 50%) | 1 performance star |
| Girls 11 (Champion) | 4 performance stars |
| Girls 11 (Top 20%) | 2 performance stars |
| Girls 11 (Top 50%) | 1 performance star |
2023 World Teen Championship
| Age Group | Stars |
| --- | --- |
| Boys 15-18 (Champion) | 12 performance stars |
| Boys 15-18 (Top 5) | 8 performance stars |
| Boys 15-18 (Top 10) | 4 performance star |
| Boys 15-18 (Top 15) | 1 performance star |
| Boys 14 (Champion) | 4 performance stars |
| Boys 14 (Top 20%) | 2 performance star |
| Boys 14 (Top 50%) | 1 performance star |
| Boys 13 (Champion) | 4 performance stars |
| Boys 13 (Top 20%) | 2 performance star |
| Boys 13 (Top 50%) | 1 performance star |
| Girls 15-18 (Champion) | 12 performance stars |
| Girls 15-18 (Top 3) | 8 performance stars |
| Girls 15-18 (Top 5) | 4 performance star |
| Girls 15-18 (Top 10) | 1 performance star |
| Girls 14 (Champion) | 4 performance stars |
| Girls 14 (Top 20%) | 2 performance star |
| Girls 14 (Top 50%) | 1 performance star |
| Girls 13 (Champion) | 4 performance stars |
| Girls 13 (Top 20%) | 2 performance star |
| Girls 13 (Top 50%) | 1 performance star |
2023 European Championship
| Age Group | Stars |
| --- | --- |
| Boys 15-18 (Champion) | 4 performance stars |
| Boys 15-18 (Top 10%) | 1 performance star |
| Boys 14 (Champion) | 2 performance stars |
| Boys 14 (Top 3) | 1 performance star |
| Boys 13 (Champion) | 2 performance stars |
| Boys 13 (Top 3) | 1 performance star |
| Boys 12 (Champion) | 2 performance stars |
| Boys 12 (Top 3) | 1 performance star |
| Boys 11 (Champion) | 2 performance stars |
| Boys 11 (Top 3) | 1 performance star |
| Girls 15-18 (Champion) | 4 performance stars |
| Girls 15-18 (Top 10%) | 1 performance star |
| Girls 13-14 (Champion) | 2 performance stars |
| Girls 13-14 (Top 3) | 1 performance star |
| Girls 12 (Champion) | 2 performance stars |
| Girls 12 (Top 3) | 1 performance star |
| Girls 11 (Champion) | 2 performance stars |
| Girls 11 (Top 3) | 1 performance star |
2023 Regional Championships
| Age Group | Stars |
| --- | --- |
| Boys 13-14 (Champion) | 2 performance stars |
| Boys 13-14 (Top 5) | 1 performance star |
| Boys 12 (Champion) | 2 performance stars |
| Boys 12 (Top 5) | 1 performance star |
| Boys 11 (Champion) | 2 performance stars |
| Boys 11 (Top 5) | 1 performance star |
| Girls 13-14 (Champion) | 2 performance stars |
| Girls 13-14 (Top 3) | 1 performance star |
| Girls 12 (Champion) | 2 performance stars |
| Girls 12 (Top 3) | 1 performance star |
| Girls 11 (Champion) | 2 performance stars |
| Girls 11 (Top 3) | 1 performance star |
2023 Girls Invitationals
| Age Group | Stars |
| --- | --- |
| Girls 13-18 (Champion) | 2 performance stars |
| Girls 13-18 (Top 3) | 1 performance star |
| Girls 12 (Champion) | 2 performance stars |
| Girls 12 (Top 3) | 1 performance star |
| Girls 11 (Champion) | 2 performance stars |
| Girls 11 (Top 3) | 1 performance star |
2023 Teen Series
| Age Group | Stars |
| --- | --- |
| Boys 15-18 (Champion) | 2 performance stars |
| Boys 15-18 (Top 5) | 1 performance stars |
| Boys 13-14 (Champion) | 1 performance stars |
| Girls 13-18 (Champion) | 2 performance stars |
| Girls 13-18 (Top 3) | 1 performance star |
2023 State Invitationals
| Age Group | Stars |
| --- | --- |
| Boys 13-14 (Champion) | 1 performance star |
| Boys 12 (Champion) | 1 performance star |
| Girls 13-14 (Champion) | 1 performance star |
| Girls 11-12 (Champion) | 1 performance star |
© US Kids Golf All rights reserved